5 DAYS CHIANG MAI BUDDHISM AND CULTURAL TOUR
VISIT CHIANG MAI FOR A TASTE OF BUDDHIST HISTORY AND CULTURE!
Let us design for you a trip that will give you insights into the development of Buddhism in North Thailand. We will discuss with you the itinerary and off we go!
Sawadee Jao, not Krub or Ka is what you will hear when coming to Chiang Mai, Thailand's second largest city after Bangkok. Chiang Mai has a long history as a former capital of the Kingdom of Lan Na before becoming part of Siam from the 18th century onwards.
The name Chiang Mai means "new city" denoting Chiang Mai's origins back in 1296 (or 1294 depending on sources) when it replaced an even older city in the region. Since then, the rulers built many temples that both reflects their devotion to Buddhism and also the wealth and culture of the region.
Read more about the journey of our travel host [HERE]
ITINERARY
Day 01
Day 02
Day 03
Day 04
Day 05
Day 01 – TEMPLE VISIT IN THE OLD CITY
(Lunch & dinner included)
Depart from Singapore to Chiang Mai by flight.
Once we arrive at the Chiang Mai International Airport, take some time to breathe in the fresh air before boarding our specially arranged coach to the hotel and have a sumptuous vegetarian lunch after arrival.  Our travel host will take the opportunity to confirm the programme with everyone.
Afternoon
After lunch, we will be visiting the Chiang Mai National Museum where we will get to learn the history of Chiang Mai and the Lanna Kingdom (which merged with Siam Thailand in the 1700s).  Following that, we will leave for the outskirts of the city to visit Wat Palad Forest Temple and then Doi Suthep.  At Doi Suthep, we will have a stunning view of the city during dusk.
Evening
After dinner, return to hotel rest for the day.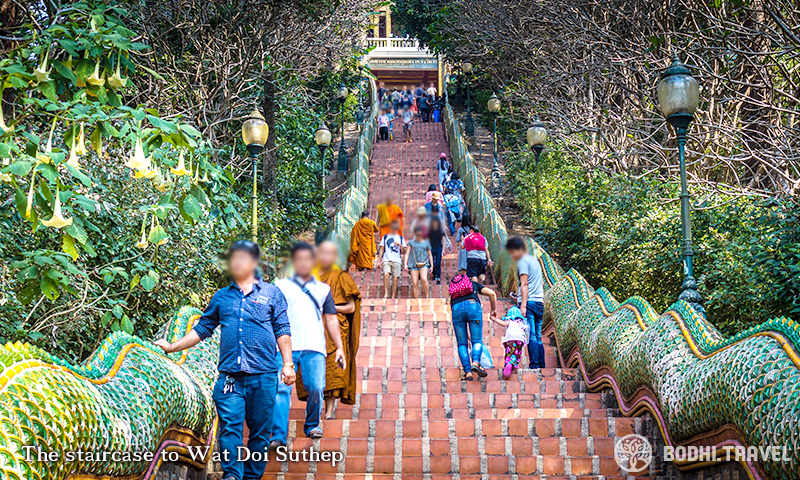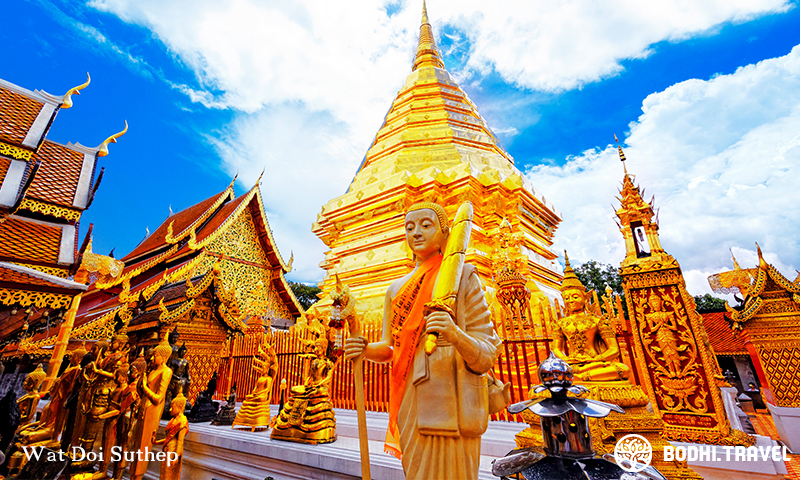 Day 02 – HISTORICAL TEMPLES + MEDITATION RETREAT
(Breakfast@hotel, lunch & dinner included)
Morning
In the morning, after breakfast and check-out from hotel, we continue our visit of the ancient ruins of Wiang Kum Kam (the capital of the Lanna Kingdom before Chiang Mai) and followed by Wat Suan Dok. Wat Suan Dok is a majestic Buddhist temple with the temple grounds housing mausoleums.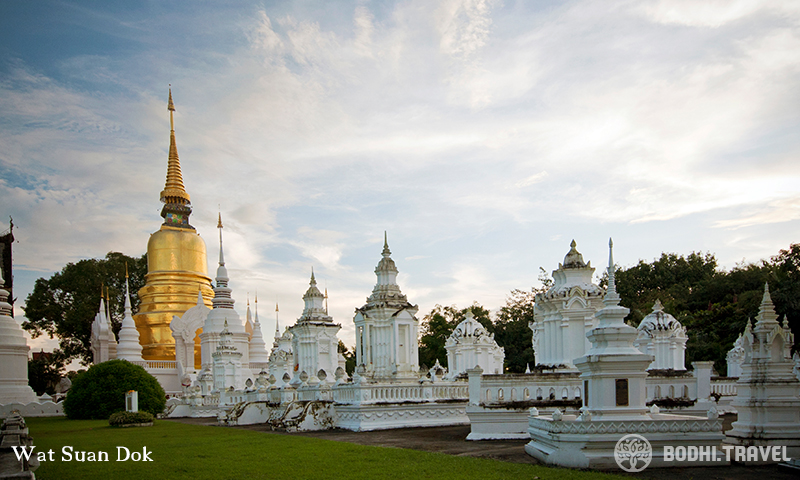 We will then proceed to have an early lunch before registering at the meditation centre.
The programme for the meditation retreat is as follows:
Meditation Retreat Day One
-   Registration at Temple (1pm)
-   Introduction to Buddhism and Meditation
-   Departure for Meditation Training Centre
-   Meditation Practice
-   Dinner
-   Evening Chanting and More Meditation Practice
-   Bedtime (930pm)
Day 03 – MEDITATION RETREAT + TEMPLE TOUR
(Breakfast, lunch & dinner included)
Meditation Retreat Day Two
-   Good morning (5am)
-   Chanting, Exercise and Meditation Practice
-   Alms offering and Breakfast
-   Dharma Discussion
-   Meditation Practice
-   Lunch
-   Meditation Practice
-   Group Photo and departure
Afternoon
After our joyous meditation practice, we will visit an important temple – Wat Phra Singh - to dedicate our merits to all sentient beings.  Home to Chiang Mai's most revered Buddha image, Wat Phra Singh was built in 1345 by King Pa Yo in honour of his father and to house his father's ashes. 
After Wat Phra Singh, we will visit Wat Chedi Luang - Luang means "big" in northern dialect and Wat Chedi Luang was thought to be one of the tallest buildings from ancient Lanna era.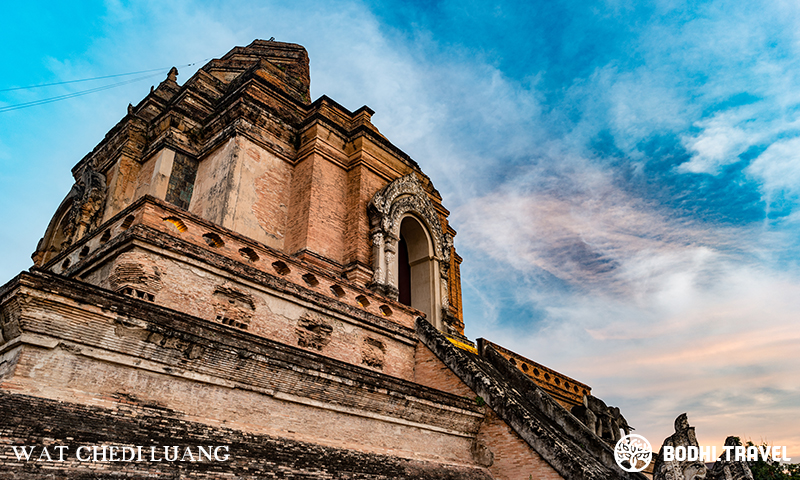 Evening
In the evening, check-in to hotel.
During dinner, we will have a relaxing discussion of our experience and evaluate activities for the remainder of the trip.
Day 04 – CHIANG RAI ONE DAY TOUR
(Breakfast@hotel, lunch & dinner included)
Morning
Travel to Chiang Rai. (3-hr ride). Stop by at the Mae Khachan hot spring.
Reach Chiang Rai, visit the famous White temple (Wat Rong Khon) and Blue Temple.
Wat Rong Khon, also known in Chiang Mai as the White Temple. The life mission of artist - Chalermchai Kositpipat -, Wat Rong Khon gives visitors the sense of the bizarre and awe.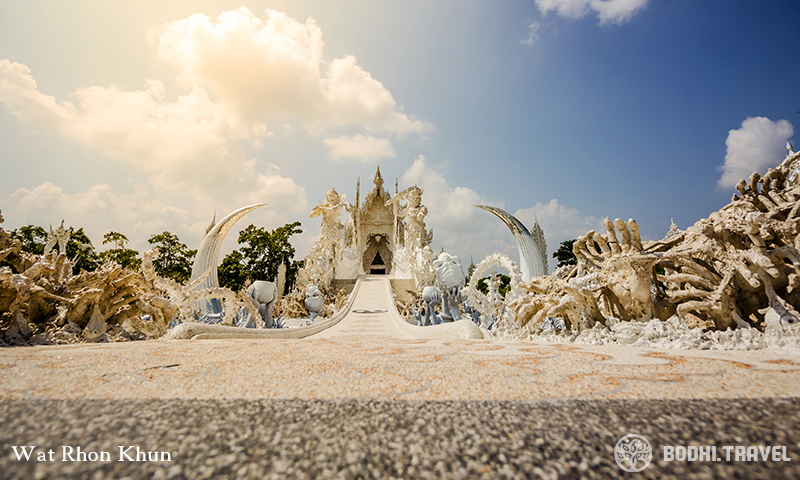 Afternoon
Enjoy lunch at a local place and continue visit to Wat Phra Kaew and Wat Phra That Doi Chom Thong.
Not to be confused with the Wat Phra Kaew in Bangkok, Wat Phra Kaew in Chiang Rai city is an important and revered temple in North Thailand. Originally named Wat Pa Yah after the dense yellow bamboo groves found locally, it was later renamed Wat Phra Kaew after a legend of a discovery of the Emerald Buddha.
Wat Phra That Doi Chom Thong is located within this mondop is a Buddha relic, believed to be part of the Buddha's skull. The relic will be taken out during important Buddhist holidays and occasions to be displayed for devotees to worship.
Evening
Travel back to Chiang Mai.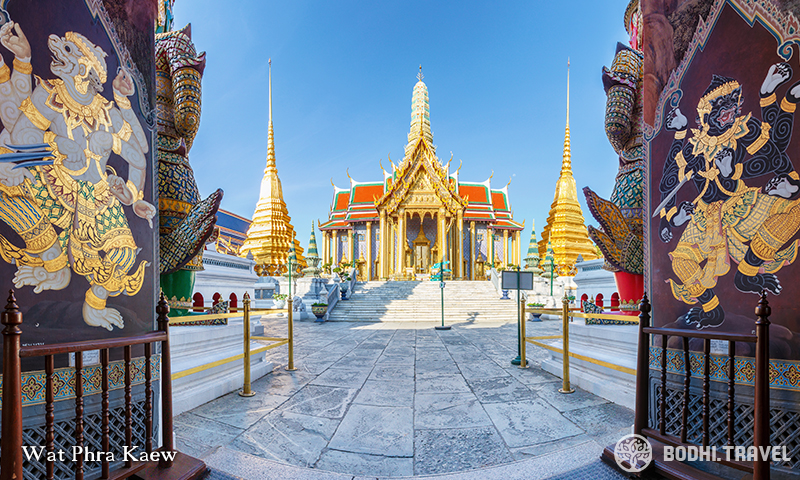 Day 05 - DEPART FROM CHIANG MAI
(Breakfast@hotel included)
Hotel check-out, depart from hotel to airport
** Dependent on your day of arrival and interest level, our tourism host will advise on the which night market(s) to visit. There is the Chiang Mai night Bazaar, Chinatown market, Maya shopping mall in the shopping district Nimman.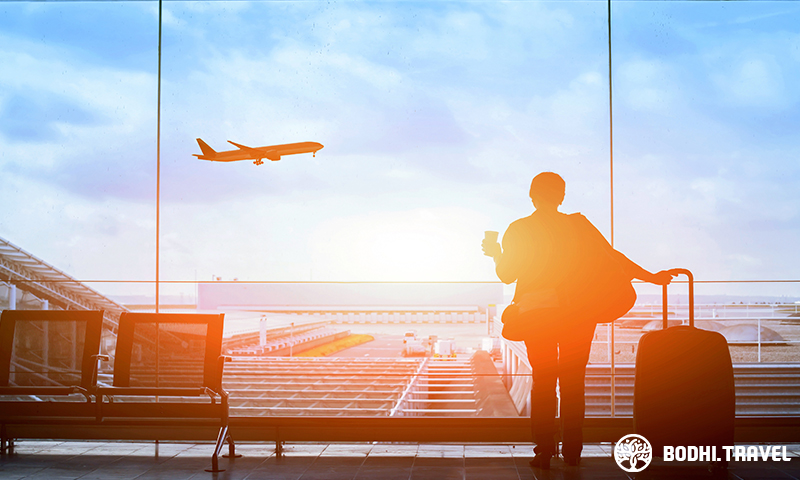 Pricing: Please contact with us
* Can be arranged through us upon request
* All travellers are strongly encouraged to purchase a comprehensive travel insurance before departure.