10 DAYS IN SEARCH OF SPIRITUALITY IN LADAKH
Ladakh located in the Indian state of Jammu and Kashmir. It is one of the most sparsely populated regions in the state and renowned for its remote mountain beauty and culture. Located over 3,000m, Ladakh is the highest plateau in the state of Jammu & Kashmir and extends from the Himalayas to the Kunlun Ranges and includes the upper Indus River Valley. 
Leh has been an important stop during trade routes from as early 1500 years ago. Today it is the capital of Ladakh and the location of the Leh airport, making it the starting point of most tourists. 
(This itinerary is for tour departures on 31st May 2019, please contact us for upcoming tour)
ITINERARY
DAY 01 & DAY 02
Day 03
Day 04
Day 05
Day 06
Day 07
Day 08
DAY 09 & DAY 10
Day 01 – DEPARTURE FROM SINGAPORE
Depart from Singapore to Delhi by flight.
Day 02 – REST & GET PREPARED
(Breakfast, lunch & dinner included)
Take an early morning flight from Delhi to Leh. Transfer to hotel/guesthouse to rest in order to acclimatize and get use to the high altitude. Please note that we are on the average of staying in an altitude of 3,000+ metres, so oxygen level may be relatively low compared to Singapore. Therefore, slow movement to start with is advisable, until you feel at ease with the environment.
(*It is important to seek medical help should one feels continuous discomfort like: extreme breathing difficulty, severe headache, giddiness or vomiting).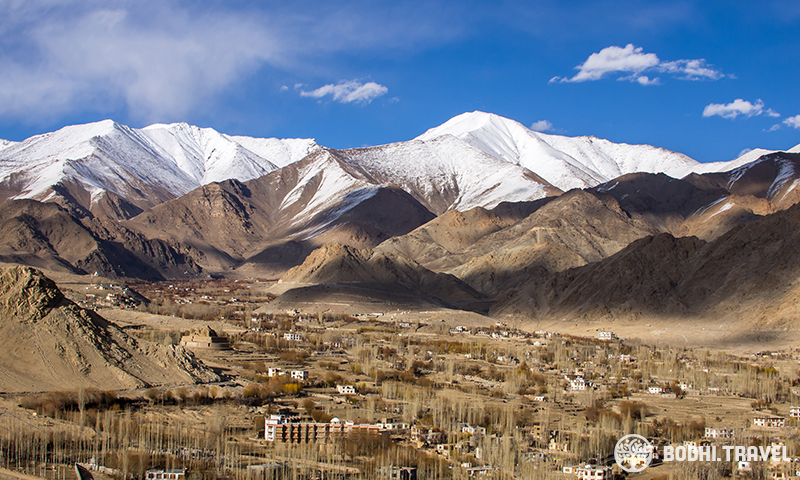 Day 03 – STOK TO SABOO
(Breakfast & dinner included)
After breakfast, proceed to Stok where the biggest outdoor Sakyamuni Buddha is. This Buddha statue, with Lord Atisha's relic enshrined inside was completed and consecrated by HHDL in Aug 2016, is greatly supported by Singapore community of Buddhists. It sits in the middle of the hill where people can see this 73 feet golden statue from miles away.
With a throne seat chamber underneath the Buddha that can accommodate 200 pax, the 4 walls and ceilings are painted with the lineage masters of the 4 main schools of Vajrayana Buddhism and various mandalas The remaining of the complex in construction, will house classrooms and a library that serve not only the local community, but also villages from afar.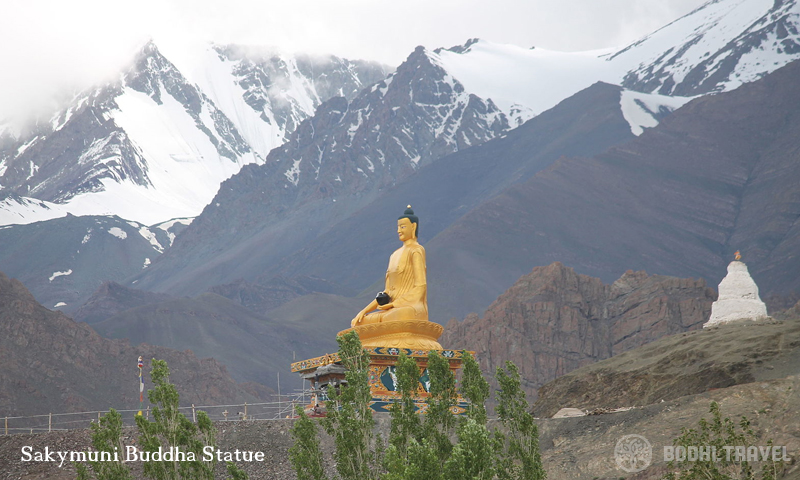 Credit: Savearth [https://commons.wikimedia.org/wiki/File:Stok_Buddha_Statue.JPG]
After a short offering of light, we will visit Stok Palace Museum nearby. This four- story palace was the former official residence of royal family of Ladakh. Constructed in 1814, by Ladakh's last ruler. It is located short distance across the Indus River, near Leh.
There are more than 80 rooms, but only five of which are opened to public. In this small museum there are intriguing collection of Buddhist art, weaponry, coins, seals, thangka paintings and other items from the royal household. But the best of the lot are Queen's ceremonial jewellery and ceremonial headgear of the rulers. Most of the collections of thangkas and paintings date back to 450 years ago.
Proceed to Ngari Institute in Saboo to stay in Norling guesthouse.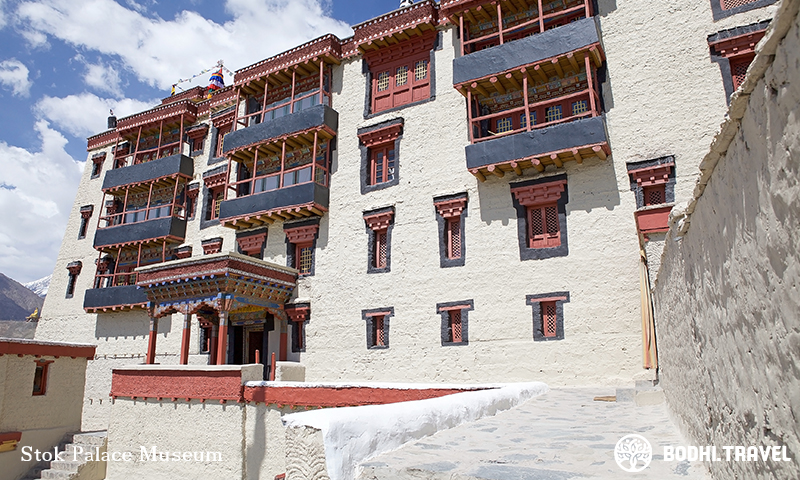 Day 04 – THIKSEY MONASTERY & THAKTHOK MONASTERY
(Breakfast & dinner included)
In the morning, we visit Thiksey Monastery which is located on top of a hill in Thiksey area, approximately 19 km east of Leh. The monastery of Gelug tradition is located at an altitude of 3,600 metres (11,800 ft) in the Indus Valley. It is a twelve-story complex and houses many items of Buddhist art such as stupas, statues, thangkas, wall paintings and swords. It is noted for its resemblance to the Potala Palace in Lhasa, and is the largest monastery in central Ladakh. One of the main points of interest is the Maitreya (future Buddha), erected to commemorate the visit of the 14th Dalai Lama in 1970. It contains a 15 metres (49 ft) high statue of Maitreya Buddha, made with clay, gold paint and copper and took 4 years to complete. The statute covering two stories of the building, is unusually portrayed as seated in the lotus position rather than his usual standing or sitting posture on a high throne.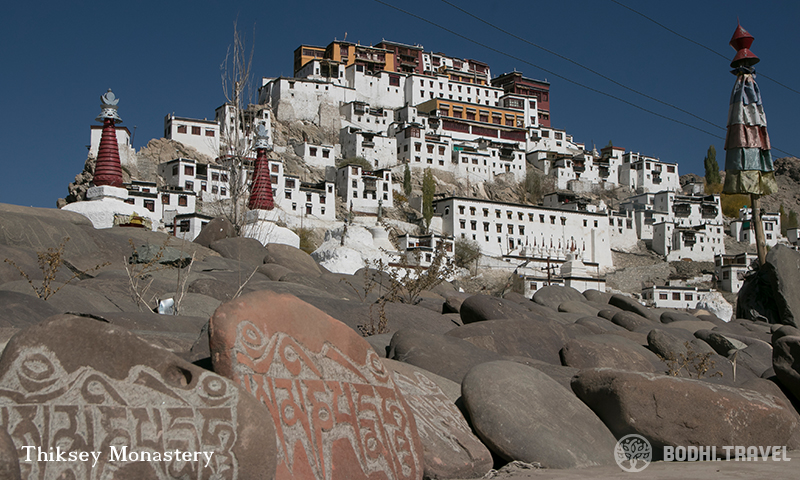 After lunch, we proceed to Thakthok Monastery which is located in Ladakh's Sakti Village which is 48km from Leh. Founded in mid-16th century. The name means "rock roof" because the roof and walls are made up of rock. This is the only Nyingma monastery in Ladakh. On the left of the central courtyard of the monastery has the cave where Guru Rinpoche (Padmasambava) had his meditation retreat for 3 years during the 8th century. We will be lead by the monk who is guiding us to do a short meditation inside.
In the evening, in the open space of the guesthouse, facing the mountains, a cultural show will be featured. Here you can see the different Himalayan tribal costumes and dances in a village festive mood.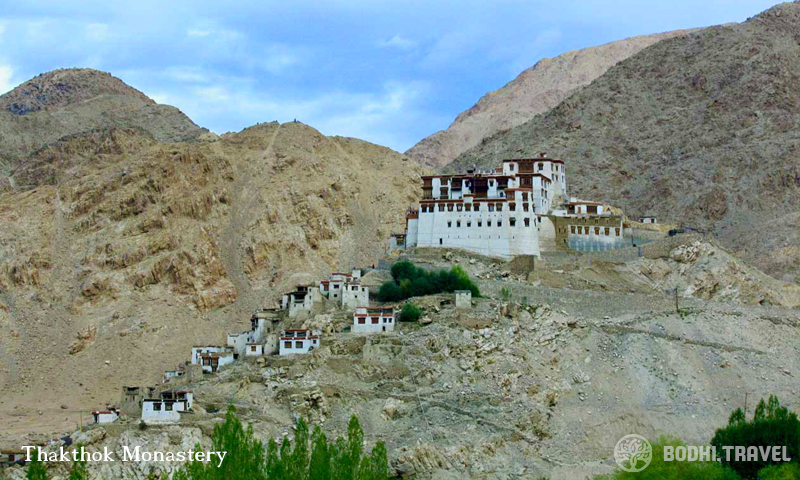 Day 05 – HEMIS MONASTERY & HHDL'S SUMMER PALACE
(Breakfast & dinner included)
This morning we will visit Hemis Monastery, a Tibetan monastery of Drukpa lineage, situated 45 km south east of Leh, It existed before the 11th century. Naropa, the pupil of the yogi Tilopa, and teacher of the translator Marpa is connected with this monastery. Naropa did his retreat in the cave which you can still see today Now the monastery is. Today it is being taken care of by HH the 12th Gyalwang Drukpa of the Drukpa sect.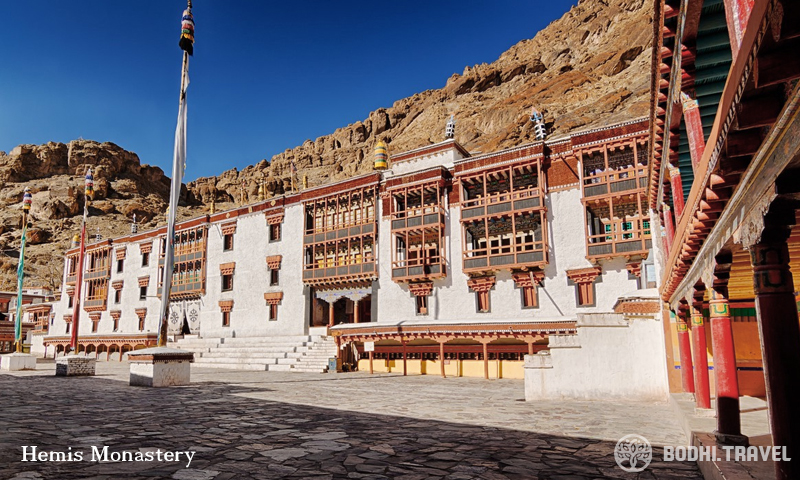 After lunch, we will visit HHDL's summer palace. This is the place where he usually spends his summer months, We will be able to enter the palace if HH is not in Leh. Otherwise we can only tour the large teaching ground that is next to the palace where a lot of important empowerments, teachings and celebrations take place.
**Please pack a small overnight bag for tomorrow as we will be staying out of Saboo for a night.
Day 06 – LAMAYURU MONASTERY & LOCAL GUESTHOUSE
(Breakfast & dinner included)
After breakfast, we proceed to Moonland for Lamayuru Monastery which is 127km from Leh. At an altitude of 3,510meters, it is dubbed as "moonscape" due to the volcanic formation of the region.
Lamayuru also known as Yung Drung is amongst the oldest monastery in Ladakh. It was founded by Naropa, the lineage master of Kagyud sect in the 11th century. Till today the cave where he meditated forms part of the shrine is still well preserved.
It was built on a self-arising swastika where it is also called the Land of Liberation. In the past, prisoners can escape death if they can send their hat to this place before execution. In 1038 the great translator Richen Zangpo (958-1055) built 5 temples here. One of them is still in perfect condition today. This monastery is home to more than 150 monks and houses a rich collection of artifacts, wall paintings, thangas, statues, carpets and an impressive 11-headed, 1000 eyed image of Chenzing.
Overnight stay in a Lhadaki home style guesthouse in Tingmosgang, a village along the way to Alchi. Enjoy the Lhadaki way of entertaining guests in their home.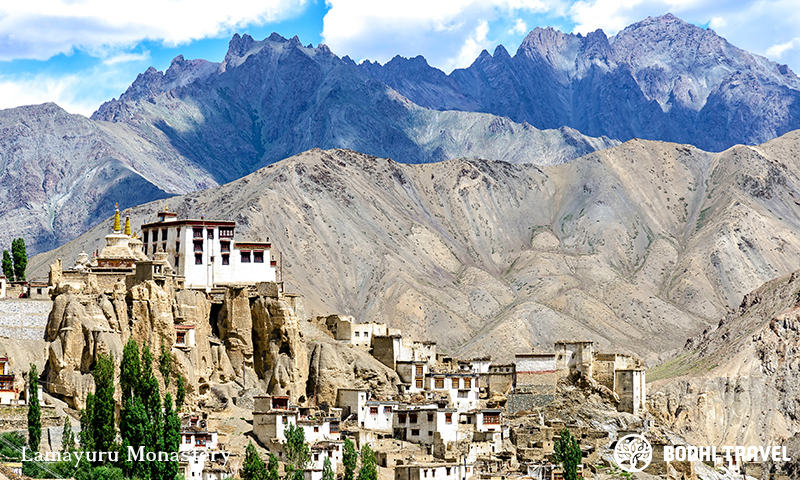 Day 07 – TINGMOSGANG & ALCHI
(Breakfast & dinner included)
After breakfast, as we drive towards Alchi, we will stop at the palace monastery in Tingmosgang. A monastery on top of the hill in a palace for the king. It is famous for its self- arising Chenrezig which attracts a lot of locals each year during their special festival. We will have a meditation session with chanting of the Om Mani Padme Hom mantra by the monk.
Reaching Alchi around lunch, where we can find many wonderful restaurants serving Lhadaki food with beautiful setting.
We will explore Alchi after lunch, which has another monastery complex, built by Rinchen Zanpo. It was said that he built more than 10 temples and monasteries overnight in this region with his magical power. However, most of them are in ruins now.
The artistic and spiritual details of both Buddhism and Hindu kings of that time in Kashmir and Himachal Pradesh is reflected in the wall paintings of the monastery. These are some of the oldest surviving paintings in Ladakh. The complex also has huge statues of the Buddha and elaborate wood carvings and art-work.
The main temple, which is a three-storied temple, was built in Kashmiri style as seen in many monasteries; the third temple is called the Manjushri Temple. Chortens (stupas) are also an important part of the complex.
Those who are interested in buying Buddhist ritual objects and art pieces, semi-precious stone jewellery and little trinkets can explore the stalls along the paths. You can have many ethnic finds pertaining to local art.
Back to Norling Guesthouse by early evening.
Day 08 – SPITUK MONASTERY & SHANTI STUPA
(Breakfast & dinner included)
Before we visit Spituk Monastery, we will have a dialogue session with the monk(s) in Ngari Institute as most of them are from this monastery. Myth that needs clarifying, personal sharing by the monk(s) and whatever questions pertaining to Buddhism, can be posed to the monk(s).
Spituk Monasteery was built during the 11th century and located 8km from Leh. It is home to 100 monks today. It has a giant statue of goddess kali which is shown to the public during the yearly Spituk festival. Though founded by Nyingma sect, it is taken over by Gelupa in the 15th century.
After lunch, before we go to the market for shopping of souvenirs and local products, we will visit Shanti Stupa along the way. This white domed shape stupa in Chanspa, on a hilltop in Leh district, was built by Japanese monk Nakamura for world peace pagoda mission in 1991. The Shanti Stupa holds the relics of the Buddha at its base, enshrined by the 14th Dalai Lama. It has become a tourist attraction not only due to its religious significance but also due to its location which provides panoramic views of the surrounding landscape. Circumambulation round the stupa is supposed to purify one's negative karma.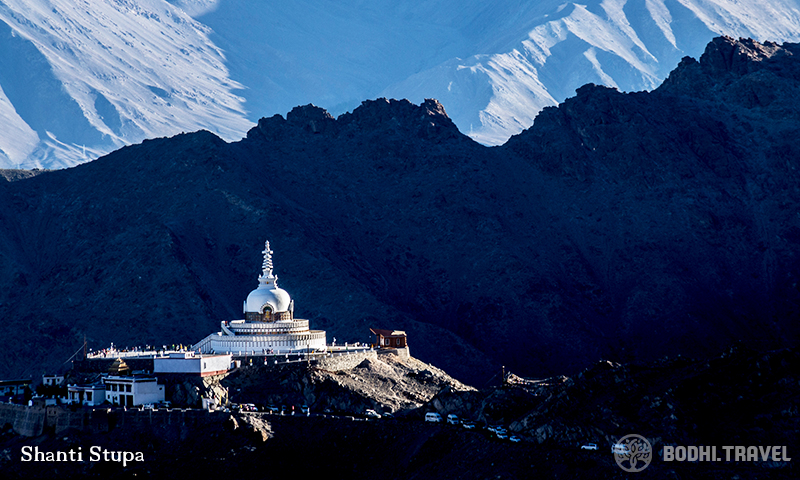 Day 09 – LEH TO DELHI
(Breakfast included)
Depart from Leh in the morning to catch a flight to Delhi for a connecting flight home.
Day 10 – ARRIVE IN SINGAPORE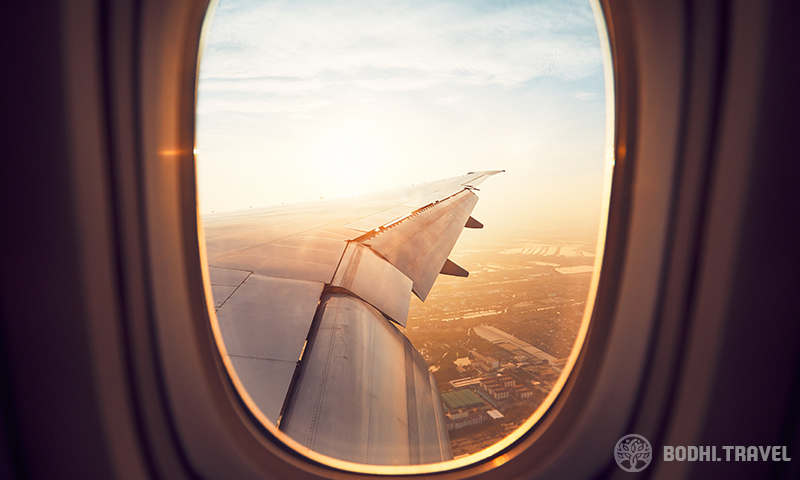 From SGD 1688/pax
(Limited dates available, please contact us for more details)
Best months to visit: May to August
Includes
Private guided tour
Airport pickup & drop-off
Transfers between places
Guides and entrance fees
Excursions as listed in the itinerary
Meals as indicated in the itinerary
Accommodation in indicated hotels or equivalent
Excludes
All domestic and international flights*
Travel Insurance*
Visas*
Optional Excursions
Tips (guides and drivers)
Alcoholic drinks
Personal Expenses
* Can be arranged through us upon request
* All travellers are strongly encouraged to purchase a comprehensive travel insurance before departure.